What Are The Different Types Of E-Bikes Available In The Market?
An e-bike or electric bike is
actually, a bicycle that comprises a small motor offering ease while pedaling.
This is an eco-friendly and low-cost solution that anybody can access, athletes
or average users, and can be used for various types of rides.
Let Us
Know About The Various Types Of E-Bikes Available In Market
Dutch E-Bike
These are perfect for those who
need a comfortable e-bike and want to go only short distances – as in the case of:
• Home-Work Trips
• Shopping / Groceries
• Sunday Outings
• Short Rides
These electric bikes come with a
high crossbar or horizontal frame for men, whereas for women these are designed
with a low frame. You are supposed to use these for only short-duration trips
of around ½ hour. It can be slightly tiring to ride for longer trips, as it has
a less efficient transmission system than other bikes. Also, all of your
propelling muscles are not used here. However, with comfortable seating and
straight back, it is perfect for short trips for elderly people – men, and
women.
Electric
Trekking Bike
This e-bike is also known as the mountain bike or Electric ATV. It is assisted with powerful and serrated tires, which makes
it ideal for athletic riding on steep terrain. This is an assisted ATV that
comes with notched and wide tires making it capable of being used on any type
of terrain. But, it is a less practical choice on the road. This is perfect for
athletes who want to get some assistance while riding.
Electric
Fat Bikes
These offer the maximum amount of
fun and can be great to ride on off-road surfaces, such as snow, sand, or
loose soil. These have large-sized tires, which are generally 4-inch or even
more, and can help you to ride up or on any surface. However, you can ride this
e-bike on bike lanes, sidewalks, and streets also.
Most of these bikes lack
suspension; however, a few consist of suspension forks. The suspension is not that
vital here given that the tires are large and fat and can absorb the shock of
many potholes and bumps. Keep in mind that these are still niche bikes, and
many companies now offer models to compete with electric fat bikes.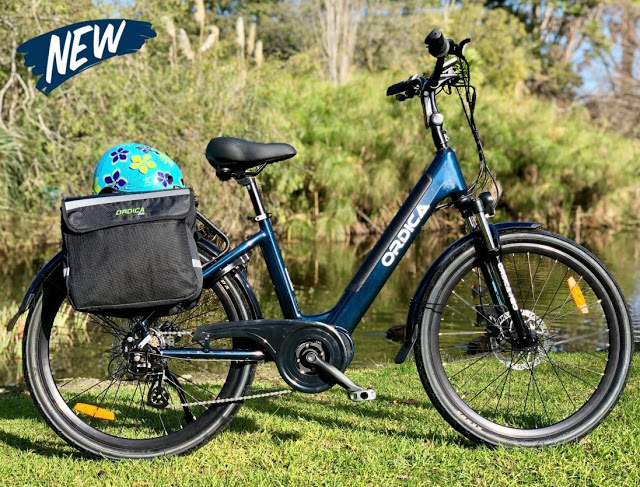 What Are The Different Types Of E-Bikes Available In The Market?
Electric Cargo
Bikes
In the world of e-Bike, these
bikes can be regarded as minivans. Though not so great in terms of looks are pretty useful. These have been designed to lift a lot of stuff and use
various methods to lift cargo. A few electric cargo bikes have a frame that
happens to be stretched in the back to offer more cargo platform or foot on
each side of the rear wheel. You can also get a wide range of cargo accessories,
such as:
• Child Carriers
• Bags
• Racks
Electric
Road Bikes
These are also referred to as
Commuter bikes, and include varied sub-types – such as:
• Gravel Bikes
• Leisure Bikes
• Racing Bikes
Most of these cargo bikes are
highly functional owing to their varied features, such as:
• Lightweight Design
• Lack Of Suspension
• Narrower Saddles
• More Front-Leaning Geometry
• Narrower Tires
These types of e-bikes have been
designed to be pedaled efficiently and are frequently the most lightweight
vehicles. You can often ride them easily with no need for electronic assist
features, which makes it ideal if you wish to ride these bikes on the hills.
In case you wish to use an e-bike for daily commuting and not so much for
enjoyable riding, cyclo-cross style bikes or hybrid bikes are what you need.
Generally, these have tires that are a little wider and are designed with
strong frames so that they can be used on multiple terrains.