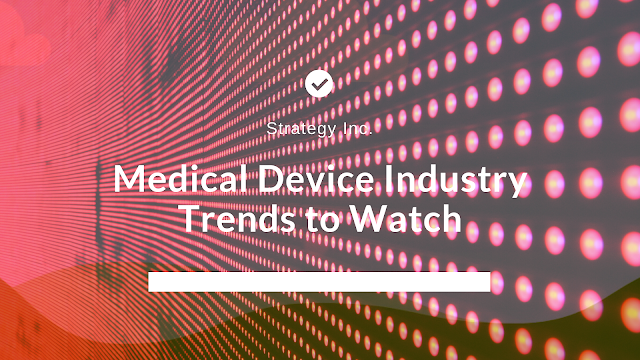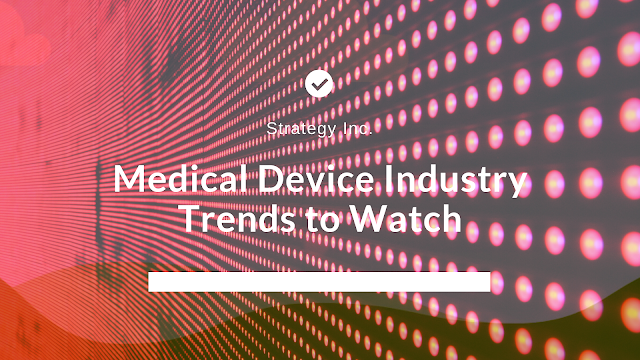 Medical Device Industry Trends To Watch
Each year new medical
technologies enter the market to deliver accurate and efficient clinical
results. The industry offers growth opportunities to medical developers in
major medical device categories including:
● Surgical Implants And Instruments
● Electro-Medical Equipment
● In-Vitro Diagnostic Equipment And Reagents
● Dental Goods
● Irradiation Apparatuses
● Medical Supplies
A medical device developer's
profitability depends on innovation, demand, supply and competition. Medical
device consulting firms play a key role in the company's growth with market
research, competitive
analysis consulting, exit strategy, medical technology commercialization
strategy and other key consulting services.
The Consulting Firms Consider The Following Five Factors And Trends
That Can Influence A Medical Device Devloper's Profitability.
1. Demographics
2. Healthcare Spending
3. Third-Party Coverage And Reimbursement
4. Regulatory Regime And Competitive Factors
5. Emerging Global Markets
Demographics

The following factors drive major
medical device demand:
● Aging Population
● Increasing Life Expectancy
● Declining Fertility Rate
In 2060, the US elderly
population will be 95 million. In 2014, this population segment had $19,000 per
person in healthcare consumption. It was nearly one third of the national
healthcare consumption. Europe will be the world's oldest region with 29%
elderly population. This population segment has and will have high healthcare
consumption.
Healthcare
Spending
In 2017, total US healthcare
spending was $3.5 trillion. In 2027, the total US healthcare expenditure will
be $6.0 trillion. In 2017, 17.9% of the GDP was healthcare spending. National
health expenditure will increase in coming decades. In 2027, it will be 19.4%
of the GDP.
Increasing healthcare consumption
will have a significant, positive influence on medical device development
companies. Medical device developers delivering innovative medical technologies
to deliver accurate and efficient patient outcomes at reduced cost will drive
increased revenue. The legislative developments will also have influence on
healthcare spending, demand and medical device pricing.
Third-Party
Coverage And Reimbursement
Physicians are the primary
customers of medical device developers after the device is approved by the medical device value
analysis committee. Physicians select medical devices for clinical use and
their patients. Typically, customers do not interact with manufacturers.
Insurers reimburse healthcare providers. Private and government programs and
other third-party payers are attempting to constrain healthcare costs by
reevaluating their payment policies. Several accountable care organizations
will limit hospital reimbursement growth.
As a result, hospitals will
scrutinize their healthcare purchases and adopt:
● Higher Medical Device/Procedure Benefits Evaluation Standards
● Disciplined Bargaining Stance.
This will offer new opportunities
to medical device companies developing affordable medical technologies.
Regulatory
Regime And Competitive Factors
Through continual product
innovations drive growth, competitive
analysis consulting for competitive landscape evaluation delivers current
and future market understanding. Medical device competitive analysis helps in
identifying competing technology's limitations, technology improvement
opportunities, unmet needs and underserved market segments. Competitive analysis consulting also
helps in pricing and increasing market penetration and market share. Continual
product innovations require significant research and development.
Government regulations foster
innovative environment in the following two ways:
● Firms With A New Medical Innovation Can Secure A Competitive
Advantage With Patents And Intellectual Property Protection. This Further
Secures The Highest Return On Investment.
● These Regulations Govern:
○
Design And Development
○
Testing
○
Approval Or Premarket Clearance
○
Registration And Listing
○
Medical Device Manufacturing
○
Labeling And Storage
○
Marketing
○
Export And Import
○
Sales And Distribution
○
Post Market Surveillance
Emerging
Global Markets
With increasing global healthcare
spending, more opportunities are available in the domestic market and countries
outside the US. According to the World Bank, all regions have increased
healthcare spending. The US medical device companies are projected to remain
the largest contributor to the industry in terms of innovation, revenue and
volume.