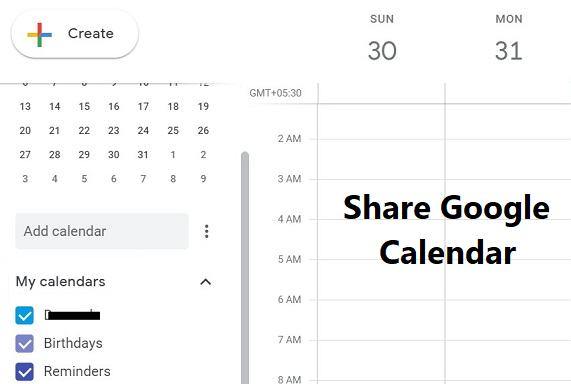 You are having a tough time maintaining all the schedules with paper and direct communication. You are busy and can't concentrate on these things, so you lag. Google calendar is the way to solve those situations. How to share google calendar? For example, maybe you run an office with 20 staff on your team. You are at home and want to set up a meeting tomorrow or a few days later. So, you use google calendar and select a date for your meeting. You can use Gmail to invite all 20 staff at a time. They will all get the notification.
Google calendar is a specific application that allows you to keep a to-do list with alarm. It is so unique that it will sync with your email and give you updates. You can use this application to set up meetings and can also invite people for further communication.
What is a google calendar?
Google calendar is a special service created by Google LL. It is a professional application that is free for all and very easy to use. You can find this application on your smartphone, or you can search anywhere on the internet, and it will show.
You need a Gmail account to access google calendar. It is the necessary part that you connect the application with your Gmail. However, The calendar will sync and provide you with pieces of information that are necessary. It will also help you to communicate with others via invitation through email.
It is a convenient application, but how to share google calendar? To share, you have to invite people. It is a different process that we will discuss further in the article.
Why use google calendar?
It is the easiest way to invite people formally.  There are only a few people who don't use google as their daily usage application. Who will mail a person when you can use one tab and select everything there. You can even add a google meet appointment if you want to arrange it virtually.
Google LLC created this service, especially for teams. You can set up a meeting, give a notification to the persons you want, let others know about your schedule, and provide reminders also.
Google calendar is a lightweight application that you can use online. It is also available for smartphones as well.
How to use google calendar
Google calendar is an online-based application that works totally for online activities. You can use it in various other ways. Let us see how to share google calendar.
Share with others: This feature allows you to share your google calendar with someone you want. It is a straightforward method. But remember, the person you are sharing the calendar with can change or edit the contents of your calendar.
Make a calendar that those who have access can edit like a family calendar.
You can add anyone as an administrative assistant to work for you.
First, search google calendar and then open it. Go to the left and see my calendar there. Click to open. Select the desired calendar and click on an icon of three dots. There you will find settings and a sharing option. You can choose to share it with a person, or you can share it with a group. After that, You have to add the Gmail id of each people you communicate with.
Add someone else's calendar: This feature allows you to connect with other's google calendar. It is a neat feature, so follow the steps to see how to join it:
Open Google calendar and click others calendar and click the add button. And you will get the "subscribe to calendar" button.
Give the email address to the add calendar box.
Press enter.
They will provide you with a notification based on the calendar owner.
Open a group calendar: It is the same as the first one. Before creating any reminder or schedule, open a group that contains the people you want to connect with. Make sure you read the necessary information as they are quite important.
Unshare google calendar with others
The process is pretty the same open google calendar and goes to the left side of the service. You will find a button called "my calendar." Click to open it and then select the calendar that you don't want to share. Click more, and you will see an option called "settings and sharing.".
Go to the permission section and select turn-off. It will make that particular calendar private. You can also use this feature to stop sharing with individual people. You have to select them from the group or list.
To use someone else's google calendar, you need to get access, and for that, you have to seek permission. It is simple if you make a calendar and share it with someone. That person will not need any permission to get access. But if someone else wants to access the calendar, they have to get permission by clicking get access. A small notification will go to the administrator and will decide what to do.
Benefits of google calendar sharing
If you think about google calendar, one thing pops into your mind. It is easy to use and time-efficient. Many applications offer this service, but very few are as promising as google calendar.
For example, most universities and organizations use google calendar to schedule and re-schedule their meetings and reminders. Maybe you have a team working under you, and you want to keep things fluid and effective. The most common thing you will for virtual meetings and schedules and reminders is google calendar.
Here are a few benefits that you will not find on any service:
Easy interface: It has one of the most straightforward interfaces of any calendar available on the internet. The same situation goes for smartphones and other devices.
Easy access: You can access easily, and there are no complications in arranging any meetings or schedule. It is also secure as one can only access it with a valid email.
Individual or group: You can invite people in a group or individually. Pretty decent for any service.
Permanent reminder: You can make an active permanent reminder for yourself. It will remind you of all of your schedules every day.
Group reminder: You can use google calendar to give group reminders. The only thing you have to do is to select the people in the group. Moreover, They must have a valid email address to enter the google calendar.
Google calendar is an everyday application that allows you to communicate with your team swiftly. Through this article, we hope you get to know how to share google calendar.
Control the access
The thing that you will get for sure is you can control the access of the calendar. It means that if you have a group calendar that you control, It strictly stays under your control. No one has access to change any information.
The best thing is that where ever you use Gmail that you use a google calendar. Your reminders and notifications will reach that particular device. Moreover, you will get complete control from your smartphone and other devices with access to google calendar.
You can set up virtual meetings with your team without even moving an inch from your seat.
Complications
You can find complications while using google calendar if you are new to meeting and organizing. Here are a few difficulties that you can face while using google calendar:
Suppose you don't have any experience using the internet. In that case, you may find it challenging to use because it depends on the internet.
Lack of communication skills.
The unresponsive team as well as.
Glitches.
Everything in this world has a complication. But for you to use it without any disturbance, you must learn how to use it.
Frequently asked question
The frequently asked questions are here down below:
Is it safe to share google calendar?
= Yes, it is safe to share google calendar. It largely depends on you how much access you are giving.
Can I use google calendar without a Gmail address?
= No. To access the google calendar, you must have a Gmail id. Without one, you can not use the features of the Google calendar after that.
Can I share google calendar with someone who does not have a Gmail address?
= yes, you can, but It is a little complicated. You have to mail the information to that particular email address. Usually, everyone has a Gmail address, and it is very common. So you can easily invite them using one.
Can I set up a virtual meeting on google calendar?
= Yes, it is one of the most common features that everyone uses. In google calendar, you can set up meetings, different schedules works, as well as many more. You can even set up a reminder for a to-do list for your entire team.
How to share google calendar?
= It is a straightforward process. Just open the google calendar service, and you will find everything. For the step by step process, please read our article where we described everything. One thing is a must, and that is the Gmail address.
Recommendation
We recommend you to use google calendar and gather experience. It is so useful for those who have a very tight schedule. Especially if you are running an office, and you will see how effective it is to use. It is less likely to give you any problem or delay.
There are various calendar subscriptions and services; why Google calendar? First of all, it is a service that Google provides, and they are very polished in terms of service. Besides that, Google calendar offers various types of services just for free, where other calendar services need subscription fees.
We recommend google calendar because of its versatility and simplicity. Most of us working hard daily to organize and maintain a good team can significantly boost work by just using google calendar.
Conclusion
Google LLC is a company that prioritizes minimalism. It means that they keep things easy and safe for the users and their employees. They develop their services for themselves, and then they publish them for the local public or consumers.
Google calendar is the same. It is a very well furnished service that is available for every type of device. It is so versatile that you can use it by just connecting to the internet. Gladly some services like this are free and easy to use. How to share google calendar, you may wonder. Go up to the article and see step by step process. You may find some valuable pieces of information also.
We have given the information based on our real-time experience and usage. So you can consider our information as a legit one.