Everyone is destined to have encounter with receipts in one
form or the other. Receipts play crucial role from providing evidence of the
sale transactions to filing tax return. From keeping track of your business
expense to having personal budget interest, these receipt tools have helped us
in so many ways. Keeping record and managing physical receipt has been headache
for so many years. Thanks to software applications which have helped us achieve
the better finance management.
5 Best Tools To Create, Scan And Manage Receipts
Whether you are
looking to make receipts with
receipt generator
or want to scan your paper
receipt using receipt scanner tool, this article will help you choose best
receipt tool. Scanning, tracking or managing your receipt will help you save a
lot of money as well the resources. You can spend your time in the most
concerned areas of your business once these automation tools will take care of
the business expense management. Read on to learn about the 5 best tools to
create, scan and manage receipts.
If you have lost your receipt, or the receipt has faded or
damaged or you want to create a fake receipt just for fun, then Need Receipt is
the best tool for you. Need Receipt is a web-based online tool which will help
you create custom receipts for any type of business.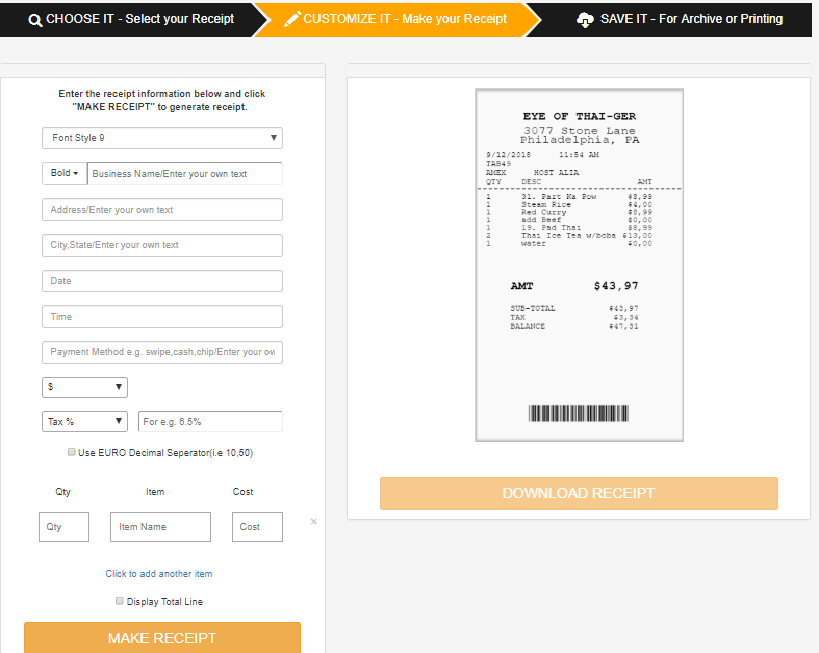 Need Receipt
They offer receipt
templates for restaurant, bar, gas station, cash, parking lot, pharmacy, retail
store and almost every type of major business you can think of. Avail from the
2 free receipt templates before signing up to their reasonable priced membership
plans. They even let you send receipt via an email to your recipients.
Expensify:
Expensify is the most helpful tool for expense management.
Make a user account and you are set to access their Expenses section where you
can put in the details about your expenses as well. Upload your receipt and it
will scan the text to automatically extract the receipt details using image
recognition methods.
Expensify
You can submit
multiple expense files which will be stored online and this tool will help you
make expense reports the way you want. Expensify offers free trial initially
but if you want to get unlimited access to track and submit plan functionality,
including unlimited SmartScans you must take their monthly subscription which
only costs $4.99 USD.
Evernote:
As the name suggests, you can create, submit or track any
kind of note which include receipts too. Its mainly a note-taking tool, but you
can scan any type input i.e. photos, audio, videos, receipts, documents etc.
This advanced feature of extracting info from any kind of file is what makes
this tool one of the best scanners.
Evernote
You might be thinking
what would I do with all these features? Well, you can simply ignore and
opt-out all the irrelevant features to fully concentrate on the receipt
scanning and expense management functionality of this prolific tool. Get now
this amazing software right on your desktop or download their mobile
application from app store.
Zoho Expense:
Zoho Expense is the part of the great Zoho software suite.It's
basically an expense tracking application which is built to manage the expense
reports. Although their receipt scanning and tracking feature is second to none
as well. They have built in feature of image recognition which will help you
extract the details from scanned receipt.
Zoho Expense
This tool is more
efficient and reliable when compared to other receipt tracking tools. The
scanning takes less than a minute to complete which makes it the most accurate
and the fastest scanning software application. They offer 100 free scans for
one month but to access the unlimited scanning feature you must subscribe to
their membership plans.
Smart Receipts:
Having discussed the four receipt tools bring us to our
concluding application which is the most dedicated receipt related tool. It
allows the features of receipt scanning, tracking and then managing your
receipt expense reports.
Smart Receipts
Smart receipt will
generate receipt reports in PDF and CSV formats which can be sent through
email. Smart Receipt have desktop application but also available of Google
Playstore and Itunes – The Appstore for iPhones. Get this amazing receipt
management application and enjoy many features for FREE.